Cabin For Sale
Are you looking for a cabin for sale?
Here at Parklink we promote many holiday parks which offer lodges, static caravans and you may even find the odd cabin for sale. Head to our section on UK manufacturers because they may be able to build you a cabin of your own.
Let's go through various cabin options to help you find the right cabin for sale.
Log cabins for sale UK
Log cabins are wonderful structures and perfect to use for those special getaways. Come and read our popular blog on log cabins for sale here. We also partner with an established firm which specialises in producing Scandinavian style cabins in the UK so give them a look here:
Wood cabins for sale
Searching for a wood cabin for sale can bring up different result so lets assume you want for holiday use. If you're looking for wood cabins for sale you really need to consider the following:
What kind of condition the wood cabin is in?

Does it need refurbishment?

Does it come with warranty?

Is the land suitable for the wood cabin?
Scotland is a wonderful place to own your own getaway and a cabin is the dream. Whether you're looking for a cabin in North Scotland or South we have member parks which can help you find something suitable. Click here to search holiday parks in Scotland offering cabins for sale.
Cabins for sale for own land
Perhaps you would like to purchase a cabin for your own land and in fact build it yourself. If so, check out this website called Quick Garden as they offers a full range of cabins for sale which you can order direct online!
Woodland cabin for sale
If you're looking for a woodland cabin for sale we can recommend a beautiful park in Devon overlooking a fishing lake. The park is nestled within the Blackdown Hills and surrounded by 45 acres of beautiful woodland. What's more, they have wood cabins for sale which come full sited and ready for you to use for holidays. View a lodge for sale in Devon here.
Where to buy a cabin?
Many people search cabins for sale near me to hopefully find a bolthole close to home where they can enjoy a break. Why not check out our map on Parklink which shows holiday parks in the UK. If you contact a park in the area you require, they may be able to help you purchase a cabin. Perhaps you're looking for a cabin overlooking a lake – click here to read lakes with cabins.
How do traditional log cabins compare to modern builds?
The modern log cabin can be made more in line with a lodge to adhere to British building regulations.
For the purist a log cabin is made by stacking logs on top of each other where they all slot together. In the old days log cabins may have been simply stacked with notches at the end. The spaces filled with all types of material. This can include dried leaves, mud, manure as well as plaster and mortar!  
These days cabins can still be made to look traditional however they benefit from modern day building methods to ensure the safety and longevity for the owner. Skilled manufacturers can perfectly blend the traditional cabin look with a modern build. Here is a lovely example:
Alternatives to traditionally built log cabins
Lets be honest, log cabins are truly amazing when built by hand using traditional methods. However, one of the challenges of traditional log cabins can be the cost and availability on park. If you're simply looking for a rustic and beautiful place you can spend quality time then perhaps we have another option for you.
How about 'archetypal' log cabin which will give you the rustic natural cabin feel and really open up your options. This log cabin style merges traditional building methods whilst incorporating the rustic, hand made nature which we associate with a log cabin. Here is a great example available in Suffolk: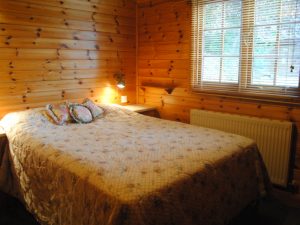 We have found this great example sited here in Suffolk and available to buy fully sited and ready for £99,500. If you are interested in private static caravans for sale sited then explore the Parklink portal.